Please note that this chrono, I made, has been published by The Historic VW club in his quaterly pamphlet.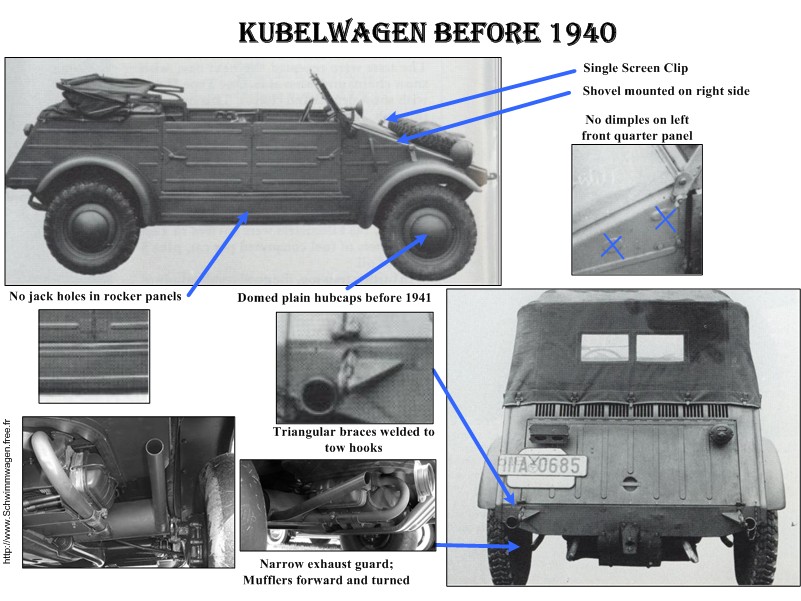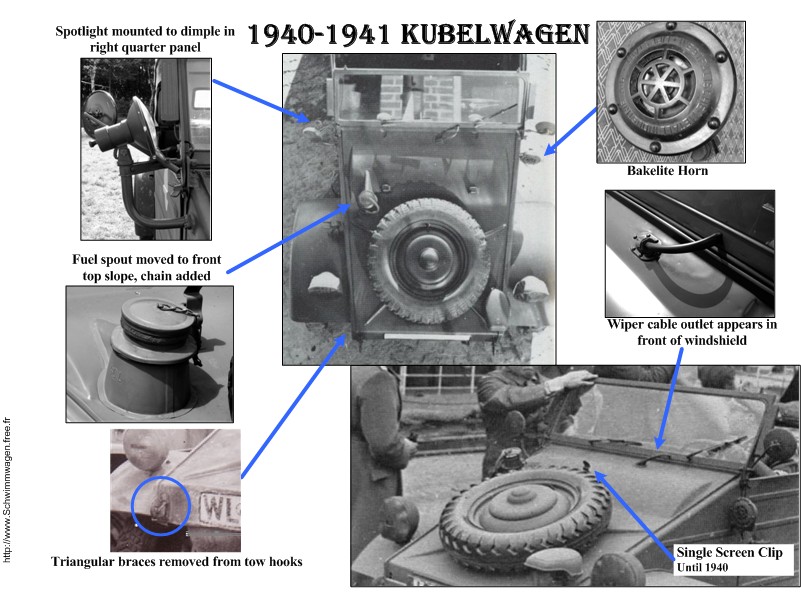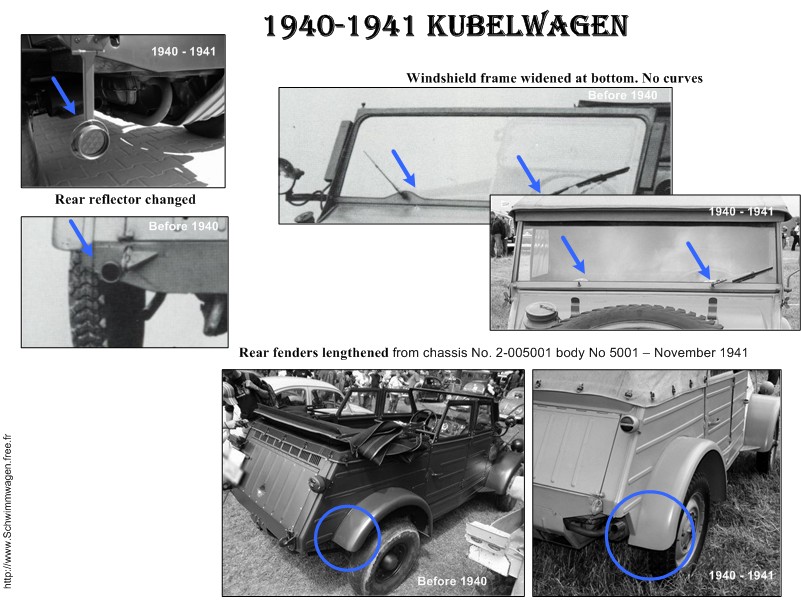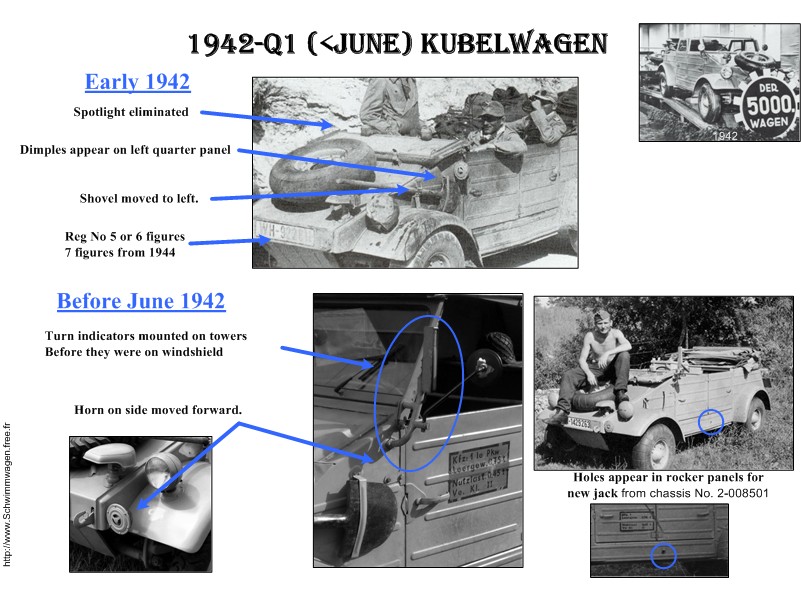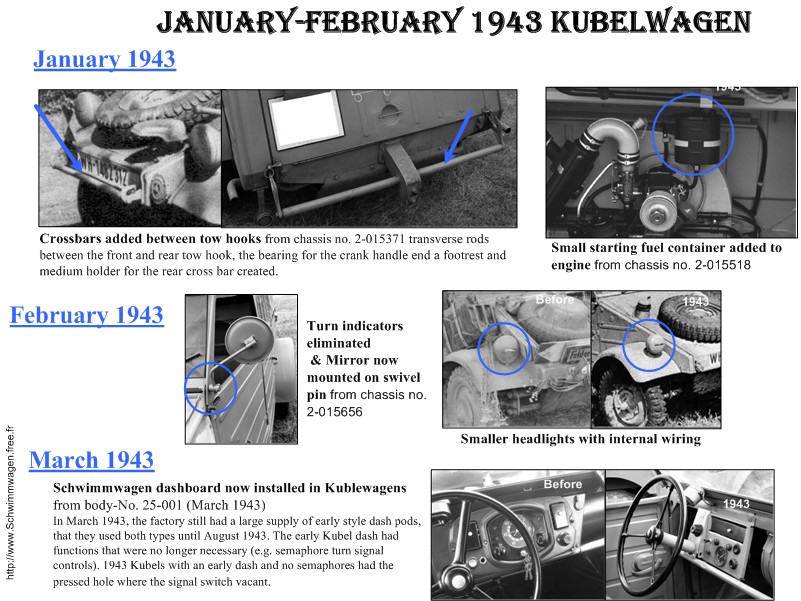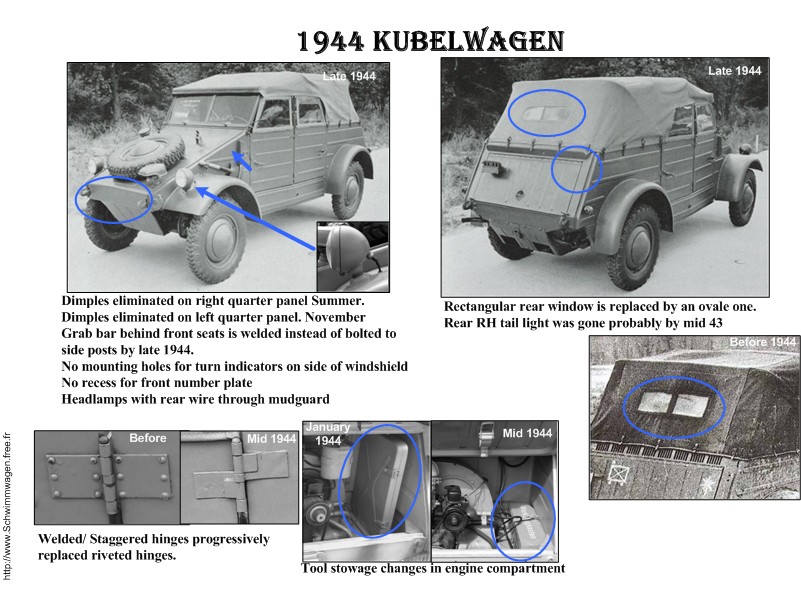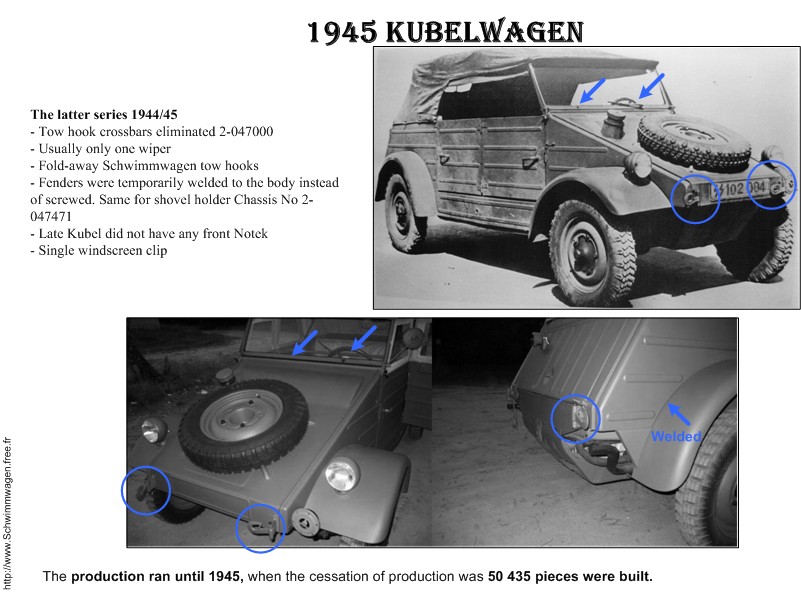 Before 1940

Side fuel spout.
Triangular braces welded to tow hooks
No dimples on left front quarter panel.
Large headlights
No jack holes in rocker panels
Curves in windshield frame, around wiper mounts
Spotlight and turn indicators mounted to windshield
Shovel mounted on right side
Narrow exhaust guard; Mufflers forward and turned
Single Screen Clip

1940

Fuel spout moved to front top slope, chain added
Spotlight mounted to dimple in right quarter panel
Triangular braces removed from tow hooks
Single Screen Clip Until 1940
Rear reflector changed

1941

Windshield frame widened at bottom. No curves.
Wiper cable outlet appears in front of windshield
Rear fenders lengthened 2-005000 November
Rear fenders lengthened from chassis No. 2-005001 body No 5001, November 1941

Early 1942

Spotlight eliminated
Dimples appear on left quarter panel
Shovel moved to left.
Reg No 5 or 6 figures, 7 figures from 1944

June 1942

New exhaust design plus heaters from chassis no. 2-009501. They were initially mounted transverse to the direction. Heating ducts on the side body members.
Wider rear engine guard Body No 9001

Summer 1942

Tool stowage changes in engine compartment from canvas tool roll to metal KdF tool box
Wider fuel spout introduced ?from chassis -No. 2-014001

Winter 1942

Spokes shortened on spare wheel mount
Plate added in front of spare
External speed box springs From Chassis 2-01501 Motor N° 2-001501

January 1943

Crossbars added between tow hooks from chassis no. 2-015371 transverse rods between the front and rear tow hook, the bearing for the crank handle end a footrest and medium holder for the rear cross bar created.
Small starting fuel container added to engine from chassis no. 2-015518

February 1943

Turn indicators eliminated? & Mirror now mounted on swivel pin from chassis no. 2-015656
Smaller headlights with internal wiring

March 1943

Schwimmwagen dashboard now installed in Kubelwagens from body-No. 25-001 (March 1943). In March 1943, the factory still had a large supply of early style dash pods, that they used both types until August 1943. The early Kubel dash had functions that were no longer necessary (e.g. semaphore turn signal controls). 1943 Kubels with an early dash and no semaphores had the pressed hole where the signal switch vacant.

Spring 1943

More powerful engine becomes standard : 1130 cm3, 25 h.p. replaced the 985 cm3 23.5 horse power. From engine no. 2-020292 / Chassis 2-17001

Summer 1943

Replacement of the oil bath air filter by a new tubular swirling air filter from chassis no 2-024523 From engine no. 2-032624
Second Pattern door handle
Wiper cable outlet in front of windscreen eliminated from chassis no 2-025001 : There was a hole in in the middle for the cable of the wipers. In 1943 the windscreens have a hole which is closed by a solded sheet of metal. The 1944 don't have.
Windshield frame squared off; some split windshields used from chassis 2-031000
Third crossbar added to canvas top.
Rib shortened on engine/ stowage cover;
Rear license plate and Notek light moved to engine cover from Chassis 2-029001

November 1943

Heeres Mitteilung n°181 dated 18/2/43 ordered that the paint change was to be made from Dunkelgrau to Dunkelgelb. Due to overstocking of the Panzergrau paint, VW (who only made the chassis of the Kubel) started to use the Dunkelgelb from 10/11/43 (Chassis number 2029566, Body number 30678)?From 10/11/43 VW ordered naked ABP body-panels, instead of paint-finished bodies. As a result no further mixes in colors appeared from this date.

1944

Dimples eliminated on right quarter panel Summer.
Dimples eliminated on left quarter panel. November
Grab bar behind front seats is welded instead of bolted to side posts by late 1944.
No mounting holes for turn indicators on side of windshield
No recess for front number plate
Headlamps with rear wire through mudguard
Rectangular rear window is replaced by an ovale one.
Rear RH tail light was gone probably by mid 43
Welded/ Staggered hinges progressively replaced riveted hinges.
Tool stowage changes in engine compartment

1945

Fold-away Schwimmwagen tow hooks
The latter series 1944/45?- Tow hook crossbars eliminated 2-047000
Usually only one wiper
Fenders were temporarily welded to the body instead of screwed. Same for shovel holder Chassis No 2-047471
Late Kubel did not have any front Notek
Single windscreen clip
The production ran until 1945, when the cessation of production was 50 435 pieces were built.
The Historic VW club has published a pamphlet which includes this page from this website about Kubelwagen chronology.